Veterinary Science 4-H Project Area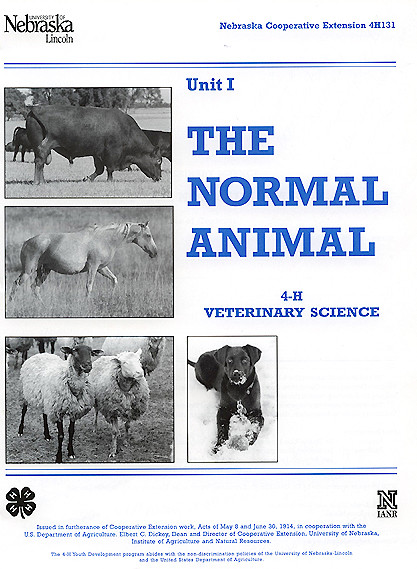 The 4-H Veterinary Science project area consists of three project manuals. Each manual covers one  year of activities. This highly challenging three-project series explores the exciting world of veterinary science. These are excellent advanced projects to supplement the other animal
projects. You must have access to an animal to make observations needed for completing certain units.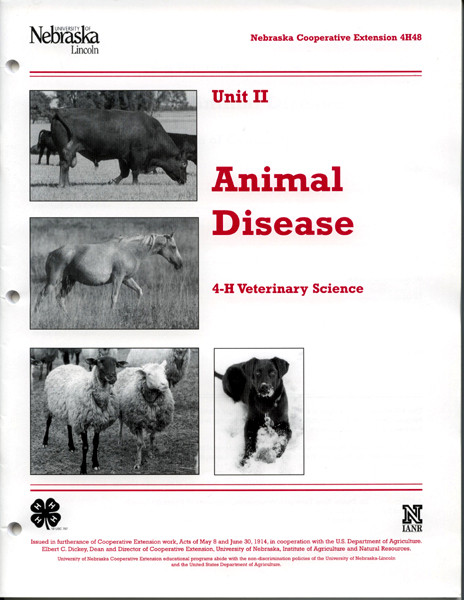 This is an advanced project area (14 years old and up).
Scoresheets
Each year, 4-H members should complete all lessons in the project manual as well as create an exhibit. Download a copy of the scoresheet to determine what is expected for project completion.

Exhibit Ideas
Vet Science 1 - Exhibit an activity completed in the Veterinary Science 1 project.

photographic exhibit of normal and abnormal characteristics of animals; or

of samples of leather or fur damaged by unhealthy or parasitized skin; or

charts showing temperature, respiration, and heart rate changes under varying conditions; or

display showing disease-preventive health procedures through the use of proper housing, nutrition, and other management decisions; or

display on the proper method of cleaning and disinfection, including safety precautions.

Vet Science 2 - Exhibit an activity completed in the Veterinary Science 2 project.


poster display on a disease describing its causes, symptoms, effects, treatments, and possible preventive measures; or

display on a viral disease listing its method of transmission, symptoms, treatments, prevention, and effects on an animal; or

display on strategic advantages and disadvantages to treat an external parasite infestation or prevent its occurrence; or

display explaining an internal parasite prevention program; or

display on a chemical, plant, or insecticide poison and its effects on an animal including preventive measures.

Vet Science 3 - A display on your self-study activity.

Create an exhibit about your project defining your goals, objectives, and results.
Create a website using your self-study findings.

Write a written report in the form of a news article, publication, or promotional flyer. Radio and television offer additional opportunities.
How Do I Sign Up?
When you get to the CLUBS tab of the enrollment, you will want to ADD PROJECT.
For Veterinary Science, you should search for:

VETERINARY SCIENCE / YEAR 1 (VET SCIENCE I: THE NORMAL ANIMAL)
VETERINARY SCIENCE / YEAR 2 (VET SCIENCE II: ANIMAL DISEASE)
VETERINARY SCIENCE / YEAR 3 (VET SCIENCE III: ANIMAL HEALTH)

Project Videos
Coming soon!
Related Events & Camps
Youth exhibitors required to complete the online quality assurance training must do so starting April 1st and no later than June 30th in order to exhibit at any fair, festival or show taking place the remainder of that calendar year in West Virginia.