Purpose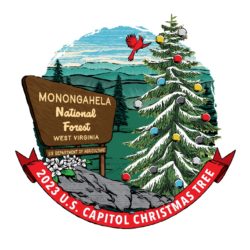 As part of the 50+ year USDA Forest Service tradition, Monongahela National Forest is providing the 2023 U.S. Capitol Christmas Tree, which will grace the West Lawn of the U.S. Capitol, along with smaller trees for federal offices in Washington, D.C. How do all of these trees get decorated? With lots and lots of handmade ornaments! We need your help to create ornaments for the 2023 U.S. Capitol Christmas Tree and smaller trees that will be displayed this holiday season in Washington, D.C.
Who
Ornaments must be made by a current 4-H member (age nine by June 30, 2023, up to age twenty-one by September 30, 2023). No project requirements.
Entry Deadline
The deadline for submitting ornaments is set at the county level. Contact your county Extension office for more information.
Where
All participants must register by completing the 2023 Ornament event registration in ZSuite ( https://4h.zsuite.org/event-registrations/22256) no later than Friday, August 4, 2023.
Ornaments need to be dropped off at your local Extension office by the deadline.
Rules
Ornaments will not be returned.
Ornaments should be completed by the 4-H member separately from the ornaments created during the summer 4-H camps.
Number of Ornaments – A 4-H member can enter no more than one ornament. If a 4-H member wants to make additional ornaments for the trees, they can send them, and extra ornaments will be passed along to the U.S. Forest Service.
Identification – Attach the provided tag on the looped ornament hanger, so it can be easily removed at the conclusion of the fair.
Two types of ornaments are needed:
Large ornaments (between 8 to 12 inches in size) that are brightly colored and weatherproof to withstand wind, rain, and snow.
Smaller ornaments (between 3 to 7 inches in size) that are lightweight and colorful. Weatherproofing is not needed as they will be indoors.
Please do:
Make your ornament out of natural, recyclable, and repurposed materials.
Make sure your ornament has a looped string or ribbon attached for hanging.
Create an ornament that celebrates "Endlessly Wild and Wonderful" West Virginia using one of these topics:
Appalachian Culture – West Virginia Style
Famous West Virginians
Iconic Spots in West Virginia and Monongahela National Forest
Multiple Uses of National Forests
West Virginia Flora and Fauna; History; Outdoors; and State Symbols
Please do not:
Use sharp materials that would pose a danger to people decorating the trees or could cut or nick tree lighting wires.
Include commercial logos on your ornament.
Create ornaments that could be divisive or offensive.
Additional information can be found at https://www.uscapitolchristmastree.com/make-an-ornament/
Displays & Rewards
Entries in this special initiative will be on display at the State Fair of West Virginia from August 10, 2023, to August 19, 2023, before being submitted to the U.S. Forest Service.
All participants will receive a State Fair ribbon and premium ($3.50) for their ornament.